Solution 01:
If copying and pasting from a remote computer don't work, clipboard redirection might be disabled. To fix this, disconnect your Remote Desktop session, and then do this:
Open Remote Desktop Connection by clicking the Start button Picture of the Start button, clicking All Programs, clicking Accessories, and then clicking Remote Desktop Connection.
Click Options, click the Local Resources tab, and then, under Local devices and resources, select the Clipboard check box.
Depending on the policies of your network and the version of Windows that is running on the remote computer, this procedure might not work with some Remote Desktop connections.
Solution 02:
A small application called "RDPCLIP.EXE" handles all the copy/paste process in Remote Desktop. Firstly, you need to terminate the previously running program, then you need to restart it again. Here is how to do it:
1. Login to remote computer using Remote Desktop (RDP)
2. Open Task Manager in the remote machine
3. Click the "Process" tab
4. Locate a program called "rdpclip.exe"
5. Right click and select "End process" to terminate this program.
6. Click on "File" menu in the task manager and select "New Task (Run)"
7. Type rdpclip.exe and press the button to start the process.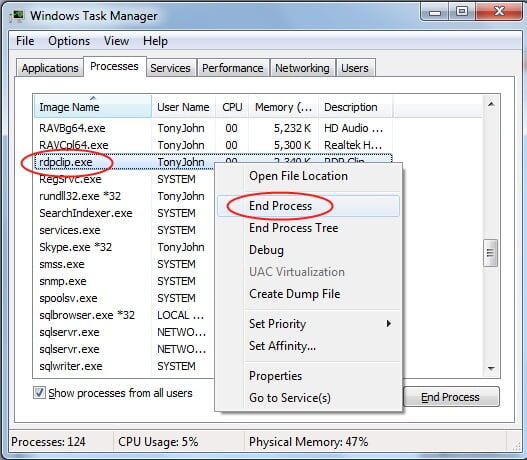 If you feel any kind of problem, please feel free to contact us.